Organization of the Aizsargi
The order, Latvijas Pagaidu valdības noteikumi par aizsargu nodaļu dibināšanu pagastos[1], creating the Aizsargi summoned into duty to safeguard their parish all men, 18–60 years old, who were residents of the parish:
landowners,
those renting dwellings or land,
manufacturers and merchants.
If there were insufficient volunteers, an assembly of the local parish would appoint them. The Aizsargi were organized by territory: a county defined a regiment's territory, a parish—a chapter's.[2] In all, there were 19 territorial and two specialty (railroad and aviation) regiments. Notably, regiments were administrative units, not formal military units:
1st Talsi Regiment
2nd Ventspils Regiment
3rd Ludza Regiment
4th Jēkabpils Regiment
5th Rīga Regiment
6th Aizpute Regiment
7th Valka Regiment
8th Valmiera Regiment
9th Madona Regiment
10th Cēsis Regiment
11th Tukums Regiment
12th Ilūkste Regiment
13th Bauska Regiment
14th Kuldīga Regiment
15th Liepāja Regiment
16th Jelgava Regiment
17th Rēzekne Regiment
18th Daugavpils Regiment
19th Abrene Regiment
Railroad Regiment
Aviation Regiment
Regiments were divided into companies, squadrons, and bicyclist commands. Each regiment operated within the borders of a single county, and the regiment commander was county chief of police. Numerous Aizsargi professionals were employed by the police.
Governance
The Aizsargi transitioned to a volunteer organization in 1921, its leadership consisting of a board of members. Its highest governing body was the Latvijas aizsargu kongress. On 23 August 1923, it adopted a constitutional amendment that in matters of policing and cultural affairs, the organization reported to the Minister of Interior, while in military matters, to the War Ministry. However, it was not until 1936 that any laws were adopted which clarified the legal status of the Aizsargi, subsequent to the original order of 1919 those being:
Law regarding the Aizsargi organization (1936) — Ulmanis was named its titular head. Its multi-fold mission was defined as: asssist in maintaining peace and order; reinforce the country against external threats; cultivate and reinforce patriotism and national culture; promote and develop physical fitness.
Ministry of the Interior, Chapter I section 3. regarding the Aizsargi organization status (1937) — the Aizsargi were subordinated to the Minister of Interior.
Minister of Justice 1937 Letter to the Minister of Interior regarding the legal status of the Aizsargi organization[3]
Regulations regarding the organization of the Aizsargi organization, and Aizsargi members' duties, rights, and training (1938) — These regulations were intended to set out duties, rights, et al. in greater detail, including: all retired military officers were to join the Aizsargi; Aizsargi were entitled to railway and similar transport. Further instructions followed. Disrespecting the Aizsargi organization or a unit was made punishable by jail.[4]
Militarization and Armaments
Initially, the Aizsargi were a civilian force mustered to protect their homes and property behind the lines in the Latvian War of Independence, provided captured arms unsuitable for the army. Once the Aizsargi were established as a formal, voluntary militia, it also transformed into an organized force.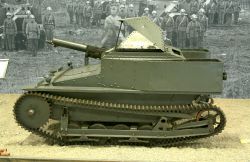 Carden Loyd Mark VI tankette in Swedish museum, at Wikipedia
Active membership was initially capped at 50 individuals per parish, 472 parishes total after independence. A full uniform was approved in 1923. 1925 saw the establishing of
Aizsargi
headquarters and formal position of headquarters officer. As the chief of police of a county, the regiment commanders were, functionally, employed by the police. Regimental commander adjutant positions were created, staffed by regular army officers. The military leadership of the
Aizsargi
consisted of 150 trained army officers attached to the organization.
The Aizsargi were equipped with light infantry arms, i.e., rifles and machine guns.[5]
In 1930, the Jelgava regiment procured a British
Carden Loyd Mark VI
tankette. The
Aizsargi
aviation regiment had 31 planes, of those, four locally manufactured
VEF I-12
models.
---
| | |
| --- | --- |
| [1] | "Latvian Provisional Authority's regulations regarding the establishment of Aizargi chapters in parishes" text at http://www.historia.lv/dokumenti/latvijas-pagaidu-valdibas-noteikumi-par-aizsargu-nodalu-dibinasanu-pagastos-2031919], retrieved 06-April-2017 |
| [2] | The parish unit, "nodaļa," can also be translated as "brigade" or "squad," however, we have adopted "chapter" as the activities of the Aizsargi were much broader than those of a militia. |
| [3] | We have not been able to locate it a copy of or report regarding its specific contents. |
| [4] | Latgale Herald (in Latvian), Friday, April 8, 1938, page 1 |
| [5] | Latvian sources indicate "Ross-Enfield" rifles when no such rifle actually existed. From archival accounts these were most likely Pattern 14 rifles, which were the standard Latvian rifle of the interwar period. "Ross" rifles were Canadian, while the Pattern 14 was British designed and American manufactured. Both shot standard .303" British ammunition. Viz. S. Kiersons, MA Boys of the Dvina - Latvia's Army 1918-1940. (Lulu Com, 2013) |
Additional Reading
Updated: June, 2017